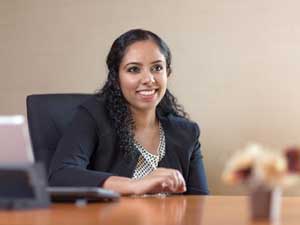 Shruti Shibulal
Chief Executive Officer
Sustainability, in the business context, traditionally refers to the healthy management of profits, people, and planet. Increasingly, there is a sense that businesses must meet the needs of the present, without negatively impacting future generations.
In this regards, driving sustainability is something that I take very seriously. In my own industry, I believe this can be achieved by being stalwarts of Responsible Hospitality.
Almost all organizations will agree that driving profitability is one of the universal goals of business. Driving the welfare of the environment and community is more controversial as it is sometimes perceived to go against profitability. This is however, a responsibility that organizations must undertake, as stakeholders no longer accept the old way of business wherein profits were created without regard for societal cost.
Growing up, respecting both nature and society were values that were deeply embedded in me. As I moved into hospitality, it became apparent that the industry often conflicted with these same values. There is a general lack of mindfulness given to the burden that hotels and resorts place on the environments in which they exist. Not only does this cause damage to the land in that locality, but it also causes damage to the people of the place through the overconsumption of available resources. This motivated me to explore a new way of doing sustainable business – one that combined the values of driving sustainability alongside performance.
At Tamara Leisure Experiences, we believe in designing and delivering unique and authentic experiences to our guests while maintaining a positive relationship with the environments and communities in which we exist. To further our vision of Responsible Hospitality, every one of Tamara's properties is designed, built, and operated with a conscious emphasis on sustainability.
We do this through mindful construction of new properties, focussing on building infrastructure for efficient operations which eventually lowers our running consumption and costs. On operational properties, we constantly innovate, take steps to measure and reduce our consumption, and recycle wherever waste is created. Over 50% of our employees are local, thus ensuring that we are hand-in-hand with all our stakeholders.
For example, The Tamara Coorg is located on a 180 acre organic plantation called Kabinnakad Estate which produces high quality coffee, cardamom, and pepper every year. When we first conceptualized this project, we believed that the best experience a guest could have here, would be by leaving as much of the land untouched as possible. In order to achieve this, we cut as few trees as possible (replanted many more), built cottages with minimal footprint on the ground, built our restaurant and conference blocks on bridges, and began rain-water harvesting in order to meet the needs of both the plantation as well as the guests.
We recycle all of our wet waste through our 'Manthan' composting system, thus creating precious organic fertilizer for our land. We recycle all unused soaps from the guest rooms into cleaning solution. We have reduced our water consumption by 30% and cut down our food wastage in both guest and staff areas by 15%.
In The Tamara Kodai, we restored a 160 year old monastery using techniques such as refurbishing existing windows and doors for modern use and upcycling railway sleepers to create our decks. To minimize our dependence on the local water supply, we created a rainwater harvesting pond. We use the organic fruits grown on our property, to make fresh jams and preserves for our guests regularly.
O by Tamara, our first and flagship business hotel, is also our first GRIHA certified project where every design decision was made with utmost care and deliberation. One of the most difficult tasks to achieve in O was the selection of the appropriate shading material and mechanism in our all-day diner, O Cafe.
I was adamant that external shading above the slanted glass roof in O Café, be installed outside as opposed to on the inside. The reason for this is that external shading significantly lowers the heat gain within the restaurant, thereby reducing the air conditioning load required to maintain an ambient temperature. Finding an appropriate solution for this was a challenge that we were successfully able to address. In operations, O by Tamara has been able to further our mission of effectively engaging with the community by symbiotically working with local women's groups to provide regional snacks in our minibar.
Lastly in Lilac, our mid-segment chain, we are currently planning to install energy management systems and solar panels in order to optimize our consumption patterns and reduce our burden on the city's electrical supply.
What Sustainability Demands
In my experience, the effort required to be a sustainable entity requires strong commitment and a holistic way of thinking from its leaders. The easiest way to start on the path towards sustainability is to measure impact. Simply by letting your employees know the amount of water or power being consumed by them on a regular basis, will indicate the importance that you place on reduction. You will surely see a dip in consumption and therefore running costs, just by this one act. In hospitality, we must also be more effective in educating our guests on the greater impact that their behaviour can cause and how as an organization, we are committed to balancing their experience with the wellbeing of the greater community.
Conversations regarding sustainability in the mass market often remain at a superficial level. However as more and more companies commit to this ideal, very real change will be seen across industries. I believe that it will become more apparent that profitability and sustainability will no longer be perceived to contradict each other, as the long-term economic benefits will far outweigh the losses.
Shruti Shibulal